Tyler Prevost

President

Tyler's career began in electrical before coming back to construction and carpentry work. He first founded Cobra Construction doing commercial and residential constructions, before teaming up with Shane and forming Cobra Structures.

Shane Prevost

Vice President

Construction has been a big part of Shane's life since learning from his grandpa. When Shane's brother Tyler asked him to team up with him, Shane used what he learned in residential and commercial construction and applied it to pre-engineered fabric building construction.

Curtis Kuczera

General Manager (Mechanical division)

Curtis is a Red Seal certified journeyman plumber who enjoys seeing a job through from the ground up. Prior to joining Cobra Mechanical, Curtis supervised several mechanical jobs throughout Winnipeg where he oversaw all the components that bring a project to life.

Chuck Fortier

Sales Manager

Chuck considers himself a career problem solver which lends itself well to the world of sales. Chuck brings over 20 years of construction-related sales management experience to Cobra, well-positioning Cobra to lead the way in building quality, installation expertise, and overall customer satisfaction.

William Lopez

Project Manager/Structural Engineer

William is an experienced Professional Engineer and a member of Engineers, Geoscientist Manitoba. He has a proven track record of successfully preparing and executing project plans and programs ensuring a timely, safe, and cost-effective design implementation during the life cycle of the projects.

Tina Johnas

Office Administrator / Reception

Tina is the Office Administrator and Accounts Payable guru at Cobra. Being a mother of four rambunctious kids, Tina finds her role as Mom has bled into her professional life, being the 'Office Mom'. Her 'mom voice' has proven itself to be handy when working through solutions.

Nik Kowalski

Marketing Specialist

Nik is a number cruncher and social media addict who enjoys seeing results in anything he sets his mind to. Recently graduated from both Red River College's Creative Communications program and the University of Winnipeg, Nik is eager to make a positive impact.

Jennifer Bennett

Front Desk Receptionist

Jennifer is the first friendly face that greets you as soon as you walk in the door. She is a mom of two boys that keep her on her toes. She has a passion for organization, and friends and family are a very important part of her life.

Alex MacPherson

Project Manager

With over a decade of experience in residential construction, Alex has worked his way up from framing to managing many projects. He continues to make his name known in the industry with Cobra by using his on-site knowledge in the planning process.

Paul Guilleminot

Bookkeeper

Paul has been involved in several accounting positions over the last 20 years, which include roles in the construction and health care fields.
Randy

Welding & Fabrication Foreman

Randy has contributed toward the pre-fabrication of every single shipping container foundation we've built, and every container home for our sister company Bison Container Homes. Randy enjoys working in a shop environment and likes to take on a leadership role in work settings

Lee

Site Superintendent

Lee's been a carpenter with Cobra Enterprises for over a decade, and since the beginning has been someone who can do it all on the job site or in the shop. No matter the type of upscale project, you can count on Lee to get the job done right.

Glenn

Journeyman Electrician

After working with tools since the age of three, Glenn's working resumé includes everything from supervising high-rise building projects in Winnipeg to performing building automations in B.C. He's now returned to Manitoba to apply his skills to Cobra Enterprises' buildings. He's always positioned his career in a way where can help others — with an emphasis on northern communities.

Paul

Foreman

Paul has quickly proven himself to be an elite leader after joining Cobra Structures in September, coming with plenty of experience installing both fabric and steel buildings. Paul's self-motivation and the pride he takes in his work earned him his success and he now site manages worksites to ensure the job gets done on time & on budget.

Chad

Carpenter

Chad is the jack of all trades, excelling as a carpenter with Cobra Enterprises for over a decade. Since the beginning, Chad's served as a valuable employee with elite framing and finishing skills. No matter the project, you can count on Chad's industry knowledge and craftsmanship to get the job done right.

Quinn

Building Installer

Quinn is one of Cobra Structures' longest-serving fabric building installers. His ability as a fast learner means you can trust him to get your installation done right. He's a natural pro with key aspects like heat sealing fabric, and gladly accepts any challenges thrown his way

Brenden

Building Installer

Brenden is a fabric building installer who brings great experience and knowledge of fabric buildings. Looking for a better work opportunity, Brenden joined Cobra Structures last year and has brought a positive attitude with him. Two things are guaranteed when you see Brenden at a job site: efficient operations and a friendly environment

Evan

Carpenter

Evan has contributed a ton of hard, high-quality work toward his own community: Norway House Cree Nation. Evan's range of skills goes across carpentry finishing on Bison Container Homes to the installation of fabric building hockey rinks. He's a hard worker with a passion for fulfilling his community needs.

Shawn

Building Installer

Shawn is a building installer who's been on the go since joining Cobra Structures last year. Prior to becoming an installer, Shawn was a junior superintendent for a general contracting company in Vancouver. He's been an equipment operator for over four years with nearly a decade of industry experience overall.

Ryan

Building Installer

Ryan brings over a decade of experience as a certified building installer. His expertise is the final trim work — he loves seeing the finished look of a project he's contributed on. He's a team player who thrives in a busy, adapting work environment and is easy going himself.

Jerome

Apprentice Plumber

Bryan

Building Installer

Kyle

Building Installer

Johnny

Framer

Joel

Labourer

Guillaume

Shop Hand

Kasyn

Apprentice Electrician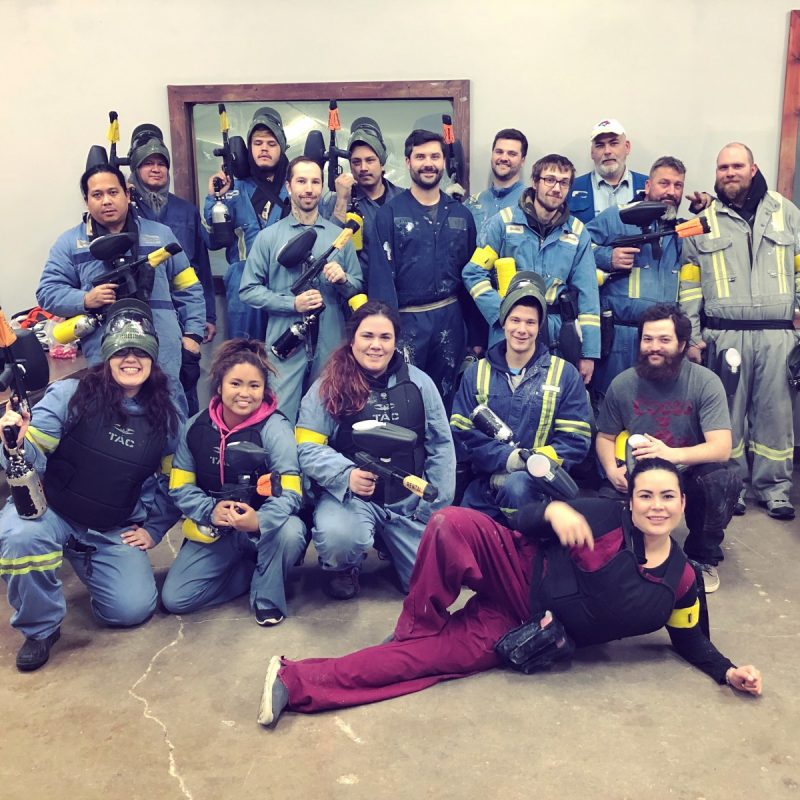 The Installation Team
All of our engineered fabric structures come with a prorated warranty of up to 20 years on the main fabric structure and fabric cover. Any engineered fabric building installed by Cobra Structures includes a 1-year guarantee on workmanship.
Careers